The live reminder is a feature that makes it possible for your followers to subscribe and get a notification in Messenger or Instagram DMs when you go LIVE. It's easy and will increase the amount of people watching your live event.
The automatic live reminder is available on the two new subscriptions introduced in February 2023, Basic and Business. If you are on a older subscription please refer to the guide for the manual live reminder HERE
How to set it up
Go to page settings
Choose plugins
Click 'live reminder'
Step 1
Enable the automatic feature, by simply ticking the box saying 'Notify me to send messages on start and end'

Now, when your live stream is about to start Sprii will ask if your Live Reminder message should be sent.
Sprii will also send invitations to everyone that is eligible after the live has ended. The delay before sending the invitations is declared in the field below

Step 2
Set the "invitation request word", that's the word that will trigger the messages sent to customers asking if they want to sign up to the list.

The example above means that when a viewer comments "live" they will get the invite message
Please note: Invitation request word and a product search word in a campaign can't be the same!
Step 3
Fill out the text fields.
Invite message: The invite message is the message sent to people who commented the request word or manually sent to the people on the reservation list of your live shopping event.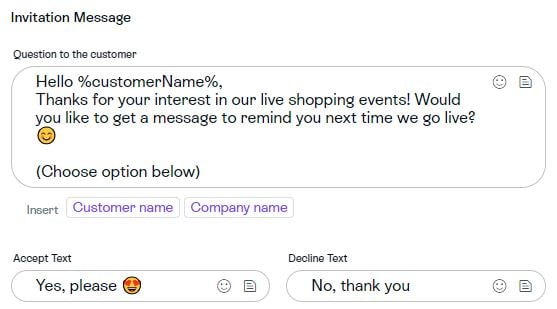 Going live message: This is the message you can send out just before you go live.
Remember to fill out the button text on all 4 buttons. Click Save and activate the plugin.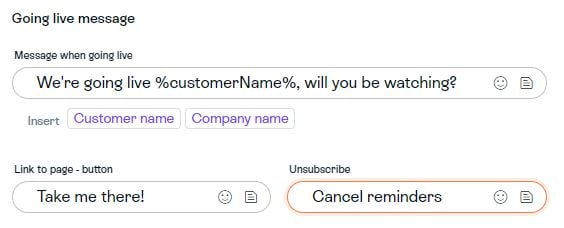 Now your live reminder plugin is all set up for usage.
How to use the live reminder?
Sprii will ask in the top right corner if you want to send out the Going live message a few minutes before your live event. The message won't be sent if you don't confirm.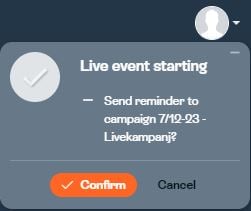 Once the live event has finished Sprii will also ask if invites for the live reminder should be sent to new customers on the reservation list, through another pop up window in the top right corner. The message won't be sent if you don't confirm.
When this is clicked the message we made at the start of this guide (Invite message) will be sent to the people on your reservation list.
The customers will then have the possibility to say yes or no to receive live reminders.
Tip: If a viewer has unsubscribed by mistake, they can ask for the invite by using the trigger word.