If you would like to offer "Store Pickup", this is the way you set it up.
Step 1
Navigate to to the Shipping module through:
Page Setting in the menu to the left

Shipping section

Store Pickup

Step 3
Add a title like "Store Pickup"

If you have multiple pickup locations, you can add them for customers to choose.
Click Add new location
Put in your locations information

The note can used for special instructions regarding the pickup location
Step 4
If you check "Full Address" on, customers will have to fill out:
Name, Address, Postal code, city, Phone and E-mail.
If "Full Address" is not turned on, the customer will only have to fill out:
First name, last name and phone number.
Step 5
To use order stage "Ready for pickup" check the box. The customer will get the custom message, when you declare their order as "Ready for pickup" in the order list.

Step 6
Remember to activate and save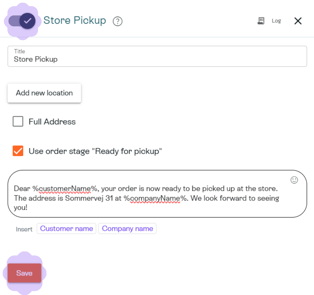 Customers will now have the option to choose "store pickup" during checkout, and if stage activated, they will receive the defined message one the order has been declared "Ready for pickup"