Instafeed credits are needed when you stream your live to Instagram through the host app. 1 live = 1 Instafeed credit
Only applicable for Business subscriptions
When Instafeed is first activated you will get 5 free credits, after that you can follow the guide below to get more. Remember: 1 credit = 1 live
Step 1
Before you go live, you can see your Instafeed credit balance under the tab 'Streaming' in the campaign, or under page settings -> plugins -> Instafeed.
Step 2
When it's time to refill your credits, log in with your IG credentials on https://instafeed.me/rtmp/ or simply press 'add credits' on the low credit warning in your campaign under the tab 'streaming', and the system will take you to Instafeed.

When you log in to Instafeed you will be able to control your credits and purchase more. This is a third-party service required by IG, and all fees will go directly to Instafeed.
Step 3
After you log in to Instafeed you will see a yellow box in the top left corner, next to your profile picture. Click this to purchase more credits.

Step 4
Now you will get the option to choose how many credits you want to purchase. Remember: 1 live = 1 credit.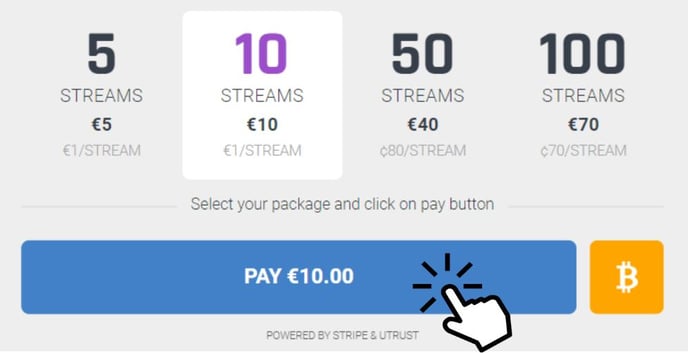 When you made your choice, click 'pay' and fill in your card details to complete the purchase.
These credits will now transfer to Sprii, and you can go live on Instagram through the host app.